Delegation from Ghana Kumasi Polytechnic University and Regent University of Science and Technology Visiting WUT
On April 20th, vice president Zeng Chunnian met delegation from the Ghana Kumasi Polytechnic University and the Regent University of Science and Technology. WUT department leaders from Graduate School, International Office and School of International Education attended the meeting.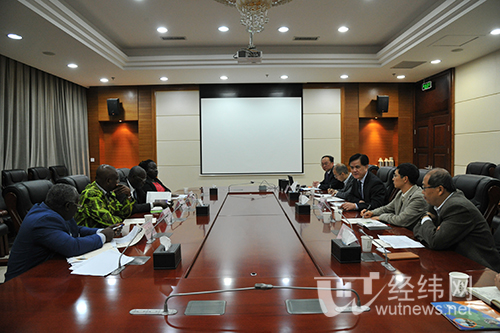 Vice president Zeng Chunnian extended welcome to the delegation from Ghana. He believed that both China and African countries are developing countries and the two sides have been keeping a friendly cooperative relationship with each other. In particular, the cooperation among universities has been more than 6 years with great achievements in terms of student exchange. Zeng hopes the two sides to enhance cooperation and personnel exchange in the future and teachers and students from Ghana will be supported to have training and learning in WUT.
  President of the Regent University of Science and Technology extended his gratitude for the warm reception from WUT and gave an introduction about members of the delegation. He believed that the two sides have established a profound friendship since the visit in 2011. Till now, many students from Ghana's partner schools have studies in WUT and the majority of them were funded by Chinese government scholarship with thoughtful arrangement and care from WUTl. The president welcomes faculty and students from WUT to go to Ghana for exchange and to broaden the scope of communication.
  Subsequently, representatives of the two sides carried out in-depth discussion on further exchange and cooperation. Moreover, members of the delegation visited the International Students' Apartment in the South Lake Campus and talked with students.